...for replacements for these:
They are nice tables, but they just look out of place after our living room's little make-over. The two styles are not meshing well.
So, I am searching.....
I really like this side table from Ethan Allen...but at $569 it's just a tad out of my price range....minus about $500 though and this would be perfect!
Jessie from
Mix and Chic
took this picture the other day of a side table and I absolutely love it. It's from a store called
Chiasso
, which unfortunately we don't have around here.
Target has some round tables sort of like this only in a more traditional style; plus they're painted black. But maybe I could get one and spray paint it silver to get a little bit of this look.
This end table from West Elm is so cool! I'm wondering if I could do something like this with a stool and some spray paint....or tin foil?? hmmmm......
West Elm
I had thought about making a tray table with my mirrored tray that I got from Target...but with three small children I think that a heavy glass tray on thin, wobbly legs is a disaster waiting to happen.
This table from cb2 looks nice and light though.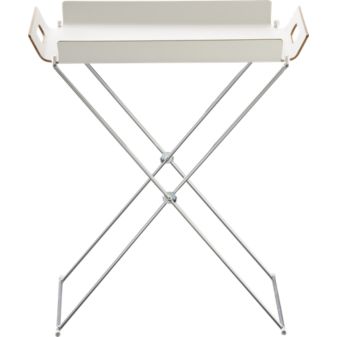 cb2
The hunt continues....
I am noticing in my search a slightly disturbing trend in the tables that I'm gravitating towards....a lot of them have glass tops. Glass is absolutely gorgeous, and takes up no visible space so it would make it look a lot airier in our living room. But I've had a rule for myself that we would have no glass tables in our house while we had small kids. The finger prints would drive me up a wall. I feel like I would be living with a bottle of windex in my hand. But ohhhhhhhh glass tables are sooo pretty!!! I feel like I'm being yanked in two different directions.
We'll see which side wins...