How am I spending my day? I am curled up on the couch, soaking up every dazzling second of the royal wedding. Oh yes; after much resistance, I have been completely, and unashamedly sucked into the hoopla. I can't help it- it's a real-life
prince
, and he's marrying a regular girl and making her a
princess
....what could be more beautiful?? {My husband would say
"real life"
...whatever.}
If you aren't getting your fill with the royal wedding, let me shove a little more British at you-
Here are some homes in London:
(My personal favorite:)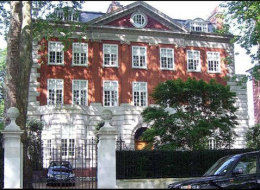 And of course we can't forget this one:
Whether you're enjoying the festivities or desperately trying to make it through the day without hearing the names William and Kate (good luck) I hope you all have a happy Friday!
Don't forget about my zebra-print fabric giveaway! If you'd like a chance to win it, become an official follower of my blog and leave a comment on THIS POST. I'll be announcing the winner May 3rd. Good luck!