I have peeked at both of these sites before, but I just recently signed up for their email alerts and really shopped their collections and oh.my.heavens are they addicting!!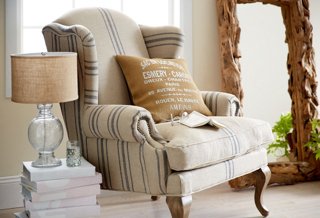 Since their collections are set up as a flash sale that only lasts a few days, you have to snatch stuff up before it goes, which for me adds to the excitement. I'd heard that on either site stuff will disappear from your cart if you leave it sitting in there too long, so when I bought from both sites recently I knew I couldn't take my sweet time with my shopping. It still was unsettling though to add an item that I was just dying over into my cart and then instantly see a timer appear that was counting down the minutes until the item would be taken out of my cart. I was practically hyperventilating as I was checking out.
One thing I got was this gorgeous settee from
Joss & Main
:
I'd been shopping around for one for weeks and had tried several stores and this was one of my favorites for what I'm wanting it for, and it was the least expensive.
It wont be here for at least 4 weeks so I'm impatiently waiting.
Any guesses on where I'll be using it??