After living for a year and a half in a house with only one bathroom, I definitely have a new-found appreciation for a place with an actual master bath (and enough bathrooms to keep everyone from fighting over who's turn it is to use one of them). The master bathroom in this house is really spacious, which is great, and sometimes when I'm brushing my teeth over my very own sink and I look over at the long expanse of counter between my sink and Rob's, I have flashbacks to what it was like for Rob and I to try to get ready at the same time in our last bathroom and how we'd fight over the tiny pedestal sink while brushing our teeth, and how I'd have to set my make up bag on the floor because there was no counter to set anything on. I find myself frequently missing that adorable little house in Minneapolis, but I am oh, so thankful to be out of that bathroom.
While I love having a master bathroom again however, this one is definitely not my dream bathroom. I love to plan out the things I want in a bathroom that's actually MINE (meaning, one in a house that we own so are free to do what we want with instead of in a house that we are renting like this one).
Some things on my list:
White Cabinets
I like my bathrooms like I like my kitchens- bright and white. Those are the two rooms in the house that need to be the cleanest, yet they tend to get the dirtiest, so I like how with white nothing can hide. If it looks clean, it is clean.
I want a vanity in a style that's something like the one below- simple, clean looking, and timelessly chic. I also like the detailing with the feet because it makes it look more like a piece of furniture instead of just a row of cabinets.
I would also love it if Rob and I had separate
bathroom vanities
so that I could spread out as much as I wanted on my counter space and know that I wasn't going to be getting in his way at all.
Marble. Everywhere.
It's so classic and rich looking, so I'd love to have it all over the place in our master bath. At the very least on the counter tops.
A Pretty Tile Design on the Floor
I want something really pretty and decorative but in simple colors like black and white, or gray and white. Some sort of pattern that looks a little vintage. Maybe something with marble. Basket-weave perhaps?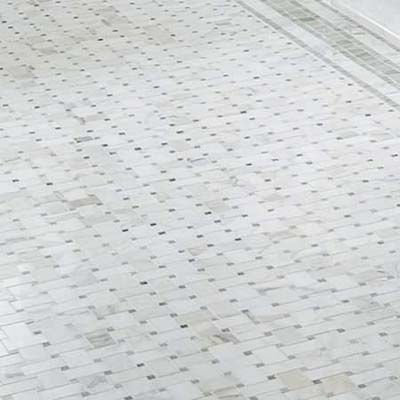 A Stand-Alone Bathtub
I know bathtubs aren't always the most practical. They don't get used much, especially in a master bathroom. But my dream bath has one. Because the right bathtub can be such a gorgeous focal point, to me it would be totally worth having it even if it was never filled a day in it's life.
What I don't want though is the kind of huge, bulky, built-in thing that's been in every master bath we've ever had. I want something that's free standing and in a really simple, rounded shape.
Pretty Faucets
I'm actually really torn on what faucet style I'd want. I feel like I could be equally happy with something really modern like this:
or something that's more of a classic design like this one:
I love both looks so I guess I'd just go with my gut when the time came and pick the style that I liked the best with the look of the room.
A Really Huge Shower
I want tons of space and multiple shower heads. Huge bonus if it's a doorless entry. I at least want frameless glass so that it will look super sleek and be easy to clean.
A Gorgeous Chandy
Nothing tops a pretty bathroom like a breathtaking chandelier so my master bathroom must have one.
And there you have it- my master bathroom wish list! Just looking at it makes me want to make myself a cup of peppermint herbal tea and draw myself a bath. Too bad my gigantic triangle-shaped corner tub doesn't look nearly as appealing as the ones in these photos.
Thanks so much to Modern Bathroom for sponsoring this post!